revengedog
asked me to post the art she did for my Big Bang,
Without Irony
, since RL has eaten her at the moment. So let's all gather together and bask in the glow of the Pretty.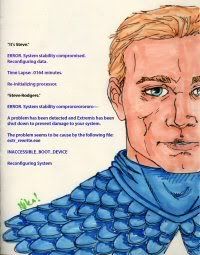 ERROR. System stability compromised. Reconfiguring data.
Time Lapse: .0164 minutes.
Re-initializing processor.

"Steve Rogers."

ERROR. System stability comprororororororo—
A problem has been detected and Extremis has been shut down to prevent damage to your system.
The problem seems to be caused by the following file: extr_rewrite.exe
INACCESSIBLE_BOOT_DEVICE
Reconfiguring System
A baby. What the hell am I supposed to do with a baby? What if they both die? Do I raise her? What does she eat? Drink? What about naps? I can't even remember my own childhood!
Current Mood:
amused